Abounding Grace Baptist Church
What Must I Do To Be Saved?
What Must I Do To Go To Heaven?
1. Know that you are a sinner.
Romans 3:23 "For all have sinned and come short of the glory of God."
2. Know that the only way any of us will enter heaven, escape the fires of hell is by trusting in the Jesus Christ, and what He did for us on Mount Calvary.
Romans 6:23 "For the wages of sin is death, but the gift of God is eternal life through Jesus Christ, our Lord."
Romans 5:8 "But God commendeth his love toward us in that, while we were yet sinners, Christ died for us."
3. Repent of your sins. Ask Christ to forgive you. Trust Him to do for you what you cannot do for yourself.
Romans 10:13 "For whosoever shall call upon the name of the Lord shall be saved."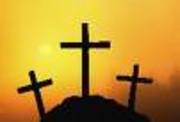 For Additional Information
If you would like to speak to someone about your spiritual needs you may contact us at the email or phone numbers listed below. We would like to pray for you and any particular concerns you have.
My Contact Information
Church Contact Information Phone 405-769-3566