Abounding Grace Baptist Church
Welcome to a church that will make you feel at home.
Weekly Schedule of Services

Sunday School 10:00
Morning Worship 11:00
Sunday Evening Bible Study & Worship 5:00
Wednesday Worship 7:00
If you have any questions or you are in need of transportation, please call or email the pastor 405/769-3566 or romiller82@msn.com
Abounding Grace has one purpose - To bring honor and glory to our Lord and Savior Jesus Christ. In order to do this we must carry out the Great Commission of Matthew 28:18-20. We are eagerly seeking those who would like to take a meaningful part in the advancement of God's Kingdom work in this world. If you are seeking a church home we ask that you prayerfully consider Abounding Grace. We are located at the corner of 15th and Henney Road in Choctaw, Oklahoma.
If you are lost or if you are not sure about your salvation go to our salvation page, call me or email your concerns and prayer needs. We have evening prayer and devotionals specifically designed to hold up the spiritual and material needs of those who are in pain or experiencing problems in life.
Our logo to the right represents the Circle of Friends in the Lord that are here for you. God bless you.
Abounding Grace Baptist Chuch associates with the
Nursery is available at all services and we have a Children's Church during our Sunday Morning Services for any youth up to 5th Grade.
We pray that you will consider coming to visit Abounding Grace!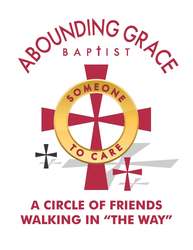 VISIT OUR OTHER PAGES ON THIS SITE. MORE IS ON THE WAY!
If you would like to view the latest pictures of church activities go to our Pics pages for a brief slide show. If you would like more information about Abounding Grace please email me at the address listed on this page or romiller82@msn.com, we would love to hear from you. If you have a blessing or a burden that you would like to share with us as a matter of prayer know that we are concerned about our brothers and sisters in Christ as well as those who are without Christ as their Savior. If you would like to know more about the plan of salvation as revealed in Scripture please visit our Coming To Jesus page.
What's Coming Up @ Abounding Grace Baptist Church
You are welcome to join us
for any of our upcoming activities.
Please call for questions or more information.
February 15 - Valentine Fellowship Dinner - Following Morning Services
February 21 - Central Oklahoma Ladies Auxiliary Meeting - Mission Home MBC, Wewoka, OK - Leaving church at 9:00am
March 19-21 - OYEAH Youth Retreat - See church for more details